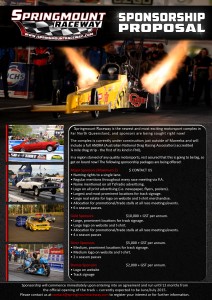 Springmount Raceway is the newest and most exciting motorsport complex in Far North Queensland, and sponsors are being sought right now!
The compelx is currently under construction just outside of Mareeba and will include a full ANDRA (Australian National Drag Racing Assocation) accredited 1/4 mile drag strip – the first of its kind in FNQ.
In a region starved of any quality motorsports, rest assured that this is going to be big, so get on board now!
Please see the attached document and contact us via the contact form to register your interest.