Published On December 9, 2019 » 8144 Views»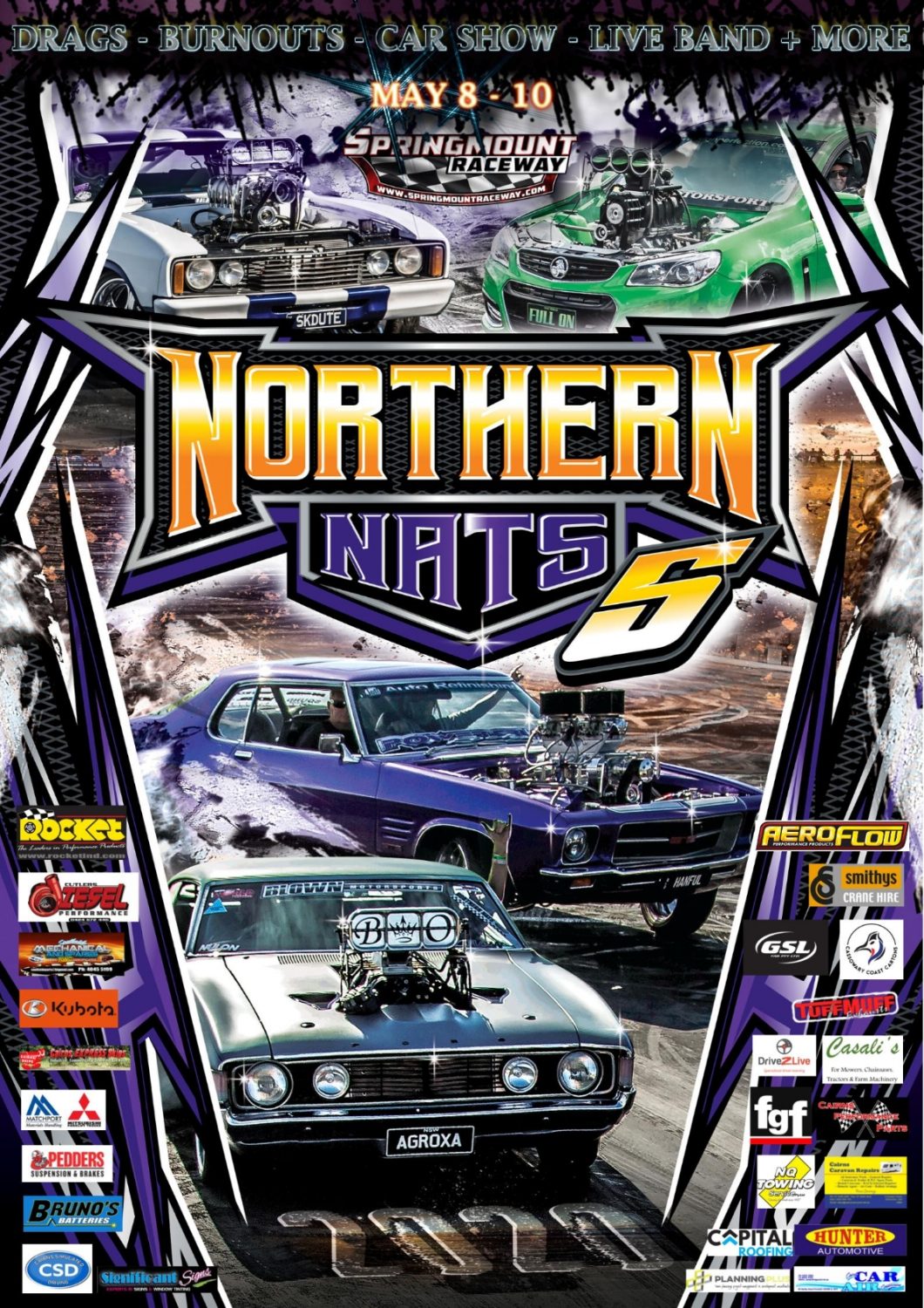 Northern Nats is the biggest horsepower festival in North Queensland over an action packed three days – from power skids to drag racing and a massive $25,000 burnout comp, it's all here at the 5th running of Northern Nats from May 7 – 9, 2021!
NN5 will feature an action-packed schedule with events including burnouts, drag racing, roll racing, power skids, go to whoa and show and shine, with a total of over $30,000 in prize money to be won. There will also be a band on Saturday night and camping is available.
See below for event information and tickets.  If you can't find what you are looking for, please contact us via email as follows:
– For burnout entrant enquiries: northernnats@springmountraceway.com
– For all other enquiries: contact@springmountraceway.com
General Admission Non-Camping
Friday May 7
Saturday May 8
Sunday May 9
3-Day Pass
Adult
$30
$40
$30
$90
Child
$15
$20
$15
$40
Family
$75
$100
$75
$220

General Admission + Camping

3-day General Admission + Camping Pass 
Adult – $130
Child – $60
Family – $320
2-day General Admission + Camping Pass (Saturday/Sunday ONLY)
Adult – $100
Child – $50
Family – $250
VIP Ticket
Includes 3-day General Admission + Camping, with access to VIP viewing area on the burnout pad – $300.  Limited spots available!
Non-Camping General Admission tickets are available only at the gate.  General Admission + Camping and VIP tickets can be purchased below.
NOTE:
CAMPING PASSES AND PIT CREW PASSES ARE ON PRE-SALE UNTIL APRIL 30th.  AFTER THAT THEY WILL ONLY BE AVAILABLE TO PURCHASE ON THE GATE AND WILL BE AN EXTRA $10 PER TICKET.
Notes:
Family is 2 adults + 2 children
Children tickets are for ages 5-15. Children under 5 are free.
No 2-day Camping passes are available on Friday (only available for Saturday/Sunday)
A PayPal fee will be added if using PayPal.  The Bank Transfer option can be selected if you wish to avoid this fee.
No BYO alcohol
EVENT SCHEDULE (MAY BE SUBJECT TO CHANGE)
To be confirmed.
Please check back frequently for updates or find us on Facebook.
Purchase Spectator Camping Tickets
Friday


May 7, 2021




7:00 am - 11:55 pm

Saturday


May 8, 2021




7:00 am - 11:55 pm

Sunday


May 9, 2021




7:00 am - 5:30 pm